Tom Sellecks twin 😳buys a Black Ferrari 308 in Las Vegas 😎😈🎲
March 4th, 2023
On this edition of the weekly buff we proudly show off this beautiful 1980s Ferrari 308 Quattrovalvole.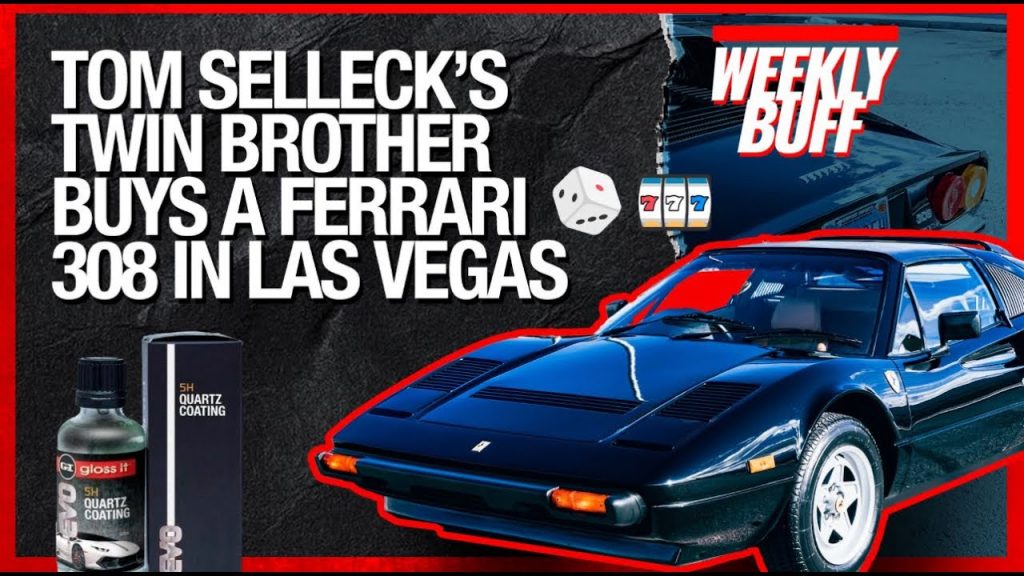 On this edition of the weekly buff we proudly show off this beautiful 1980s Ferrari 308 Quattrovalvole. This machine puts out 237Hp, and 191lf-ft torque from a beautifully built V8 engine. These beautiful Ferraris were made popular in America from the television show Magnum PI, where Tom Selleck drove a Red 308 Ferrari regularly. When this came in the crew was excited and anxious to get started as this was almost entirely original paint we took extra care when polishing to ensure we dont burn through whats left from the original finish.
We started with a full decontamination wash with our EVO PRO Shampoo along with green clay bars to remove anything abrasive that may be stuck on the paint. We also use our EVO Pro Wheel Gel to clean the wheels and barrels to remove metal particles and contaminants from driving and brake dust. Once we completed prep we moved on to Correction.
Now on this vehicle correction was going to be a bit more complicated as this was about 80% original paint and 20% respray from wear over the 30 year life of this vehicle. Josh along with Marcus, and JR performed a three step paint correction process. They started with wool pads and our EVO 800 Heavy Cut polish to remove deep scratches and marks. They then moved onto a foam pad along with our evo 2000 finishing polish, then a final polishing step with a orange foam pad and our EVO 3000 finishing polish. With these three steps of paint correction it looked completely different than when it was dropped off, and now it was ready for Ceramic Coating to protect the perfect finish we managed to get back from the 1 step paint.
We moved on to the final step where we apply a full array of our GLOSS IT Ceramic Coatings to all the surfaces on the vehicle. Josh, JR, and Marcus began with EVO Pro 5H ceramic coating on all the paint finish that had just been polished to perfection up to 8 years of protection with 3 layers applied. We also applied our EVO PRO Wheel & Caliper coating to prevent brake dust, and other abrasives from sticking to the wheels while driving making them immensely easier to clean We did this with an airgun and did the face and barrel of each wheel as well as each caliper individually protecting them for up to 1 year. The final coating we applied was our EVO Pro Leather Protectant on the convertible top to protect the finish for years to come from the elements of everyday driving.
The customer loved the final outcome of the vehicle. It looked brand new like it just left the factory for its first miles. He will be dropping off another car soon for us to work on so keep an eye out for that weekly buff as well. Make sure to drop a like comment, and subscribe to our channel for future content.
---